Meet Nizar Jarjour
---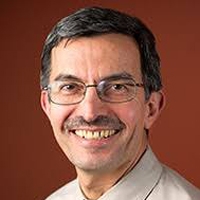 Nizar, Jarjour, MD
Wisconsin Allergy and Pulmonary Team Makes Creative Gift
Dr. Nizar Jarjour had an innovative idea to get his staff involved in philanthropy benefiting the ATS Foundation Research Program.
At his staff holiday luncheon, Dr. Jarjour gave his team the option to direct where they wanted him to send charitable gifts in their honor. The University of Wisconsin Allergy and Pulmonary Team selected three charities—one of which was the ATS Foundation.
Each staff member received play money to place in one of three boxes with the name of the charity. Then they played trivia and other games, and the winners got more play money to contribute.
"When they were done, the event coordinator counted the totals and I sent the money in their honor as my holiday gift to them," says Dr. Jarjour. "It was great fun for all…and it made shopping for gifts a whole lot easier for me!"
Nizar Jarjour, MD, is a professor of medicine and head of the Division of Allergy, Pulmonary & Critical Care Medicine at the University of Wisconsin-Madison, and an expert in allergic inflammation and asthma. He considers ATS to be a "great scientific home for my research" and is one of the Foundation's earliest supporters.
Thank you, Dr. Jarjour and the Wisconsin Allergy and Pulmonary Team, for your generous and creative gift!