Meet Angela Wang
---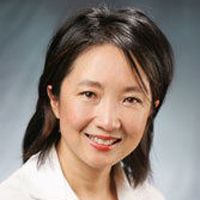 Angela Wang, MD
Many members expressed the desire to help the American Thoracic Society when ATS 2020 was cancelled as a result of the COVID-19 pandemic and chose to donate their 2020 conference registration fee to the American Thoracic Society to support the critical work of ATS members.
Angela Wang, MD is a Clinical Professor of Medicine at the University of California, San Diego, gives back to the pulmonary community in many ways, including her generous support of the ATS.
"Many of us know ATS as a big sprawling conference to which we dutifully trek each year, to learn about the latest in pulmonary, critical care and sleep medicine, to make professional connections, to see old friends and make new ones. There is no better place to get an overarching view of what is important in our profession and keep abreast of important trends, where we can hear presentations from the best minds in our field. But ATS is so much more than an annual meeting. It is an organization made up of individuals who are passionate about making the world a better place through education, research, clinical care, and science. When you support ATS, you are supporting our profession, whether you are in academics or practice, in the ICU or clinic. When you support ATS, you are helping all of us deliver the best care to our patients and to continue the research that propels that care. You are helping to sustain and maintain our excellence through the training of upcoming generations of pulmonologists, intensivists, and sleep physicians."
"When you support ATS, you also give all of us a political voice, so important during these times. So please consider contributing to ATS, for the society and for us."