Welcome to the 2020 ATS Assembly Challenge!
---
The Assembly Challenge taps into the grassroots community of the ATS Assemblies in support of the ATS Funds for the Future Campaign. Your generosity launches promising young investigators in careers dedicated to scientific discovery and better patient care.
Download the Assembly Challenge Toolkit

The Challenge launches on December 1,  #GivingTuesday, an international day dedicated to giving, and continues through December 31, 2020.
There are three ways to win the 2020 Assembly Challenge:
Be the assembly with the most dollars raised in 2020 for the Funds for the Future Campaign;
Be the assembly with the highest member participation rate in 2020 for the Funds for the Future Campaign;
Be the assembly with most first-time donors December 1-December 31, 2020
Gifts support core ATS mission-related programs including Research Program, MECOR, Medical Education Research, Ziskind Clinical Research Scholar Award, and Assembly Awards and Scholarships.  No matter what program inspires you, all gifts to the ATS count toward the Assembly Challenge.
The winning assemblies will be announced in early January 2021 and will be recognized throughout ATS communication channels and at ATS 2021.
The ATS created this  toolkit  to help members make the Assembly Challenge a success for their assembly. Assemblies are encouraged to make  #GivingTuesday (Tuesday, December 1) a focal point of their assembly activities. Then, continue the spirit of giving throughout the end of the year.
---

The ATS would like to thank all ATS assemblies for their outreach efforts and generosity during the 2019 ATS Assembly Challenge. This was the closest Assembly Challenge yet!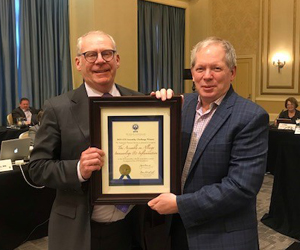 James M. Beck, MD, ATSF, ATS President, with Jay K. Kolls, MD, AII Assembly Chair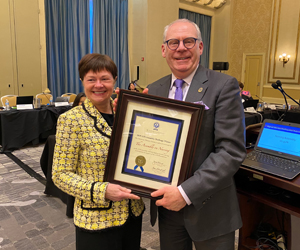 James M. Beck, MD, ATSF, ATS President, with Linda L. Chlan, PhD, RN, ATSF, NUR Assembly Chair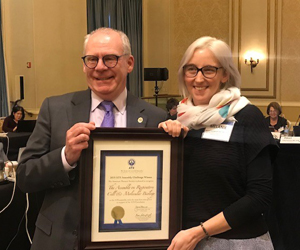 James M. Beck, MD, ATSF, ATS President, with Melanie Koenigshoff, MD, PhD, ATSF, RCMB Assembly Chair
Most dollars raised: Allergy Immunology & Inflammation with $69,188
Highest member participation: Nursing with 20.34%
Most first-time donors in Dec.: Respiratory Cell & Molecular Biology with 22 new donors in Dec. alone