2020 ATS Assembly Challenge Results!
---
The ATS would like to thank all ATS assemblies for their outreach efforts and generosity during the 2020 ATS Assembly Challenge. This was the closest Assembly Challenge yet!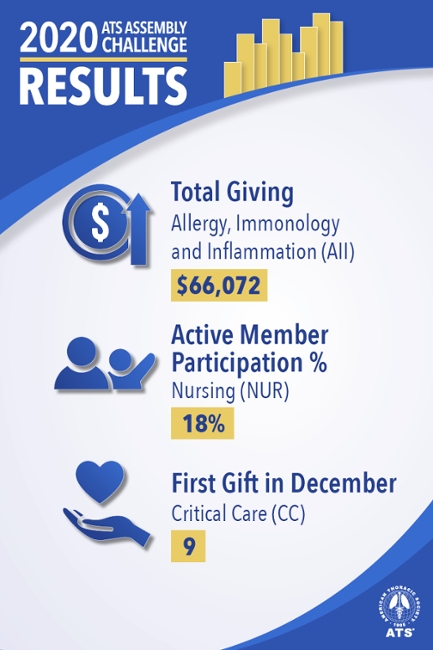 Most dollars raised: Allergy Immunology & Inflammation with $66,072
Highest member participation: Nursing with 18%
Most first-time donors in Dec.: Critical Care with 9 new donors in Dec. alone
In what has been a challenging year for us all, the support from ATS Assembly chairs and members has been tremendous. Your generosity launches promising young investigators in careers dedicated to scientific discovery and better patient care. Click here to view the Leadership Board Results!
The Challenge launched on #GivingTuesday, December 1, an international day dedicated to giving and gifts support core ATS mission-related programs including the Research Program, MECOR, Medical Education Research, Ziskind Clinical Research Scholar Award, and Assembly Awards and Scholarships. This year, Assemblies have raised over $180,000 for the ATS Research Program alone!
Congratulations to the Allergy Immunology & Inflammation, Nursing, and Critical Care Assemblies! They will receive special recognition throughout ATS communications and within their own Assemblies.
The ATS would like to thank all ATS Assemblies for their outreach and generosity during the Challenge. You provided a big boost to our year-end giving campaigns—and a boost to our upcoming grant-making capacity for talented investigators. Thank you for your enthusiastic support!
Truly, your energy, creativity, and participation were outstanding. Thank you for everything you do for the ATS, young investigators, patients, and respiratory health worldwide.
To learn more about the impact of your gift click here
A gift today supports your Assembly's 2021 Assembly Challenge efforts – click here to donate!