Meet Trina Massey Davis
---
Research, Greater Awareness Needed to End 'Secret' of Sarcoidosis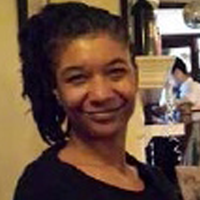 "Sarcoidosis may be a 'snowflake disease,' but living with it hits like an avalanche. We need your help to dig us out," says Trina Massey Davis, a sarcoidosis patient-advocate.
In her call to action delivered at ATS 2016, Ms. Massey Davis says there is a role for researchers, clinicians, and patients in finding better treatments for a disease that affects each patient uniquely.
"Sarcoidosis is like a medical secret," she says. "Through research, we can figure out what causes it and advance from there."
Meanwhile, Ms. Massey Davis, a supporter of the ATS Research Program, believes greater awareness of sarcoidosis—which can affect many parts of the body including most often the lungs—among health care professionals and the public is essential.
Ms. Massey Davis has lived with sarcoidosis, both undiagnosed and diagnosed, for 27 years. She nearly lost her job and was rushed to the ER with "a heart pumping out of my chest."
Today, the mother and grandmother is back working for the Georgia Division of Family and Children Services. Although prednisone helps with disease flare-ups, the joint pain and fatigue never relent.
But Ms. Massey Davis is unstoppable. She was nominated for a Global Genes Champions of Hope Award for her advocacy efforts, organized a congressional briefing on sarcoidosis, and organized an annual 5k fundraiser for the Foundation for Sarcoidosis Research, an ATS Public Advisory Roundtable member.
Still, Ms. Massey Davis holds back tears when she recalls "snowflakes" who died recently and thinks about sarcoidosis and her own mortality. "It hurts to think that you may not be around to help those you love," she says.
Thank you, Trina, for sharing your story!