Meet Maki Inada
---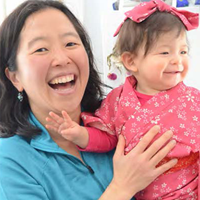 Maki Inada with daughter Mariko
Maki Inada teaches biology at Ithaca College and is an avid swimmer, biker, hiker, and runner.
After developing a bad cold and persistent cough, Maki visited the doctor, who investigated and found a seven-centimeter mass in her lung. Not believing that an active and otherwise healthy nonsmoker would have a tumor at age 35, her doctors sent her home with antibiotics. Her cough continued, and Maki was eventually diagnosed with non-small cell lung cancer.
After eight weeks on a targeted therapy with an enzyme inhibitor and four rounds of chemotherapy, her tumor was down to 0.5 centimeters. Maki was now a candidate for surgery and had an upper left lobectomy—and walked a mile the day after surgery!
"If it weren't for the research of doctors… I don't think I would still be here today," says Maki.
Maki Inada's story, and the stories of so many other patients, is a powerful reminder of the transformative power of research.
Thank you, Maki, for sharing your story!