Meet Heather Snyder
---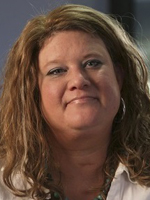 Despite the fact that Heather Snyder's father died of pulmonary fibrosis when Heather was nine, her breathing problems were misdiagnosed as asthma, until her mother insisted she get an x-ray.
"Things went rapidly downhill from there," recalls Heather, who came within hours of her life when she received a double-lung transplant.
Heather feels lucky to be alive and advocating for pulmonary fibrosis patients. "Lung transplantation was in the early stages of development when my father died, so he didn't really have a chance."
Although looking forward to the fifth anniversary of her transplantation because she feels better every year, Heather believes that transplantation offers an incomplete answer to this deadly and puzzling lung disease.
"We need research to find medications that stop the progression of pulmonary fibrosis and research to find a cure," she says. "Patients need hope and research is hope. I want to know that the next generation of patients can survive."