Meet Jen Eisenmann
---
A Lung Transplant Saved Her Life, But Not Without Complications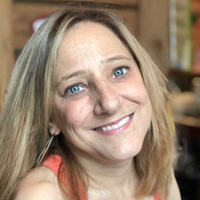 Jen Eisenmann's lung transplant came at age 45, and just in time. Jen has cystic fibrosis and, despite doctors telling her parents that she would be lucky to live into her teens, she grew up with relatively few complications of the disease.  That is, until she went to college and for the first time had trouble breathing.

At age 22, she became a patient at a CF clinic and began twice-daily breathing treatments. Despite the stepped-up care, she was frequently hospitalized with infections, and her lungs deteriorated.

In 2016, a double lung transplant saved Jen's life, but she quickly discovered that "she had traded one set of problems for another." After the transplantation, she required surgery to eliminate a digestive problem, a series of bronchoscopies to keep her airways open, and the insertion of a feeding tube. She also developed diabetes and, worse, pneumonia, which doctors had to treat by putting her into a medically induced coma.

"In two days, I went from feeling pretty good to being on a respirator and having my kidneys shut down," Jen says. Afterwards, she was so weak that she struggled to pick her head off the bed.

That was about a year-and-a half ago, and since then Jen has had far fewer health emergencies. But she has become hypervigilant: checking her lung function weekly, avoiding people who are sick, and not buying bagged vegetables because they might harbor Listeria. She also exercises to keep her lungs in good shape.

Despite all has been through, Jen laughs easily and attributes the strength in adversity to her high energy and the support of her husband, Pete, and her close friends.

Without the scientific and clinical advances achieved in CF and transplantation over the last half century, Jen says that she knows she would not be alive. However, she would like to challenge researchers and clinicians to do more, particularly to advance post-transplant lung care.

"I feel like we're in the Dark Ages with the medications we take after lung surgery," she says. "None of the ones we have were specifically developed for lung transplantation."

Now that her health has stabilized, Jen is determined "to do good." She sits on the national board of the Lung Transplant Foundation and is the chair of the North Carolina chapter.  The foundation provides education and mentors to those needing a lung transplant.  She has also started a Facebook page for cystic fibrosis patients who have had, or need, a lung transplant, "because many of our issues are different from other lung transplant patients."

"I love talking to people and answering their questions," she says. Helping others appears an antidote to the understandable frustration and occasional depression Jen experiences.

"I don't take lot of time feeling sorry for myself," she says simply.  "I just want to get up and get out there and live."

Thank you, Jen, for sharing your story!