Meet Bria M. Coates
---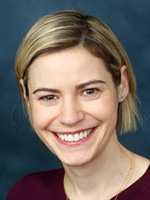 Bria Marielle Coates, MD, traces her interest in becoming a researcher in addition to a clinician to her pediatric critical care fellowship.
"A lot of what we do in pediatric critical care is based on extrapolations from what works in adults," says Dr. Coates, who is an assistant professor at Northwestern University Feinberg School of Medicine and a critical care physician at the Ann & Robert H. Lurie Children's Hospital in Chicago. "But children aren't little adults, and I realized that to offer critically ill children the best care, we need to have more knowledge."
In 2015 Dr. Coates received an ATS Foundation/American Lung Association grant to study innate immune responses to influenza infection. Specifically, she studied influenza A, a highly contagious virus that causes respiratory tract infections in up to 40 percent of children each year. For some otherwise healthy children, the infection can lead to an out-of-control and life-threatening inflammatory response, whose symptoms go far beyond the lungs and resemble sepsis or septic shock.
To conduct her ATS/ALA study, entitled "Impact of NOD-like Receptor Signaling in Juvenile Influenza A Virus Infection," she created a juvenile mouse model of the infection, which was, itself, a novelty.
Before receiving the grant, Dr. Coates and her mentor applied for other grants and found that funders were more interested funding research on influenza in newborns or adults. "The ATS/ALA grant validated our efforts to try to advance our knowledge of influenza infection in children," Dr. Coates says. "The fact that the reviewers found it an interesting line of inquiry was very motivating."
Dr. Coates believes another important aspect of being awarded an ATS grant is that a mentor for the research project is strongly encouraged.
Since receiving the ATS grant, Dr. Coates has received both a K12 and a K08 award from the National Institutes of Health to continue her research. She has published findings supported by her ATS/ALA grant in the Journal of Immunology and Frontiers in Immunology, and today heads a research team that includes pediatric critical care and postdoctoral fellows.
Dr. Coates's research on children and influenza has led her to begin thinking about other questions, including how does lung injury at a young age affect lung health over a lifetime.
"As a field, we haven't done a good job of long-term follow-up in children who have had a critical illness," she says. "It's possible that early severe viral respiratory infections have long-term consequences for your health and may even decrease your life expectancy."
If this proves to be the case, it is all the more reason to understand the mechanism by which the body's innate immune response can turn deadly when provoked by a common influenza virus.
Thanks to ATS/ALA support for her research, Dr. Coates has focused on an area that clearly needs more investigation and is poised to make a unique contribution to the field.

The exciting research conducted by Dr. Coates and the over 263 other recipients of ATS Research Program grants is made possible by the support of our generous ATS Research Program donors.