Meet Benjamin Medoff
---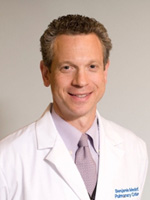 Since 2004, the ATS Research Program has awarded more than $16 million to 210 researchers. Our awardees have gone on to secure over $215 million in federal funding…published their findings in the world's leading journals…established laboratories where they mentor a new generation of researchers and clinicians…and achieved major leadership positions at their institutions.
Take Benjamin Medoff, MD, one of our earliest awardees, and the recipient of a 2007 ATS research grant. "I was at the tail end of my K08 and trying to take my research in a new and independent direction. This award not only extended the time I had to prepare my R01 application, but also gave me more freedom to take risks in my experimental approach," says Dr. Medoff.
Today, Dr. Medoff is chief of the pulmonary and critical care unit at Massachusetts General Hospital and an associate professor at Harvard Medical School. The Medoff Laboratory is continuing the work of his ATS Foundation research grant on the role of CARMA proteins in allergic airway inflammation.
What you do matters. Your gift matters. For the researchers, and for the patients and families who will benefit from these research advances.
Thank you for your support of the ATS Research Program and for helping to build a future where we can all breathe better!