Honor Your Mentor
---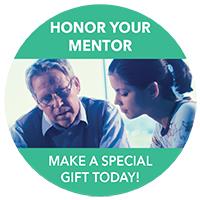 Your mentor has, no doubt, been one of the most influential figures in your life, as well as the lives of many other clinicians, researchers, nurses, and educators in respiratory, critical care, and sleep medicine.
In recognition of this special relationship, the ATS is pleased to offer you the opportunity to honor your mentor and say thank you.
When you make a gift through Honor Your Mentor, your name and your mentor's will be recognized on the ATS Honor Roll of Donors, and throughout signs and publications during the ATS International Conference. Upon request, we will send your mentor a card letting your mentor know about your generous tribute gift.
A gift through the Honor Your Mentor Program in your mentor's name helps sustain our core programs. These programs extend the number of opportunities for mentors to collaborate with their students, trainees, and other professionals—and to make progress towards conquering lung disease.
"No matter whether we are clinicians or investigators, someone has helped us reach the level of success we have today. In my case, it was Marvin Birnbaum, MD, a critical care and pulmonary physician. When I first began studying with Marv, I was not even considering a career in pulmonary medicine. Marv taught me to think critically and creatively; he imbued in me a great passion for pulmonary physiology. I now teach this subject to my own medical students, and hope I inspire them as much as Marv did me." – Michelle Cloutier, MD, Professor of Pediatrics, University of Connecticut Health Center