Homer Boushey, MD: 2020 Breathing for Life Recipient
---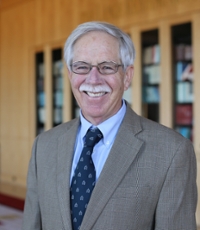 Homer Boushey, MD, will receive the 2020 Breathing for Life Award—the highest honor given to an ATS member for philanthropy—during the Opening Ceremony at ATS 2020, on Saturday, May 16, followed by the Twelfth Annual ATS Research Program Benefit.
The ATS Research Program was established in 2004 during Dr. Boushey's tenure as ATS president. He later served as the first chair of the ATS Foundation.
Although the Research Program has grown dramatically since the first awards were offered to young investigators—the ATS Research Program now funds more than 30 awards each year to researchers throughout the U.S. and around the world—Dr. Boushey believes that one thing has not changed: it has not lost sight of supporting "high-risk, novel ideas."
The goal of the ATS Research Program remains to help young investigators interested in pulmonary, critical care, and sleep research do the pilot work they need to prove a novel idea has merit by generating preliminary results that lead to major grants.
Virtually all of Dr. Boushey's medical career has taken place at the University of California San Francisco--from medical student to pulmonary fellow to co-director of the Airway Clinical Research Center to chief of allergy and immunology to professor emeritus of medicine still advising PhD researchers.
Throughout an illustrious research career, he, himself, has taken novel ideas and run with them. With UCSF colleagues, Dean Sheppard, MD, and John Balmes, MD, Dr. Boushey conducted some of the first controlled studies exposing people with asthma to low levels of air pollutants—research that led quickly to California revising its air pollution standards for sulfur dioxide, and to his testifying to the U.S. Senate on re-authorization of the Clean Air Act. With John Fahy, MD, Dr. Boushey demonstrated a non-invasive method of assessing airway mucosal inflammation and used this to study new asthma therapies. And 15 years ago, he partnered with Susan Lynch, PhD, and Yvonne Huang, MD, to begin researching the microbiome and asthma—an investigation that began with a small grant from a grateful patient and is now part of a major UCSF center on the microbiome and disease headed by Dr. Lynch.
The admiration is mutual. Dr. Fahy, who traveled from Dublin, Ireland, to work in Dr. Boushey's lab says that his mentor's research and grant support "laid the foundation for the best clinical research program in airway disease in the world." Now a distinguished UCSF faculty member himself, Dr. Fahy credits Dr. Boushey's selflessness with providing opportunities for independent growth that helped catapult his own research career.
Dr. Sheppard, chief of pulmonary, critical care, allergy and sleep at UCSF, says he might not be in academic medicine without Dr. Boushey's encouragement. "He talked me out of leaving academic medicine and suggested a research project," Dr. Sheppard says. When that project led to a serendipitous discovery, "Homer gave me the freedom to pursue the science wherever it might lead."
Dr. Lynch says that Dr. Boushey is "naturally driven by curiosity and data, rather than a dogmatic view of what we should be looking at." His ability to think outside the box and bring kindness and patience even to trying encounters, she adds, have made him "an incredible mentor."
Stephen Lazarus, MD, another UCSF colleague for nearly 45 years, describes many qualities that have made Dr. Boushey universally admired. He has an uncanny ability "to extrapolate a bigger picture from data that many other people were still trying to digest, to bridge a number of disciplines in his own work," and to serve as "peacemaker" when competing interests threaten progress.
Throughout his career, the 2020 Breathing for Life Recipient has never lost site of the goal of research: to improve patient care. In the 1970s he started an asthma education and support group at UCSF. He worked closely with nurses to improve self-management, and as ATS president he championed an initiative to introduce primary care providers to the benefits of using simple pulmonary function testing in their practices.
"All of Homer's patients have high praise for him and genuine affection," says Dr. Fahy, who now cares for many of those patients. "They consistently comment on how kind and patient he was with them."
As someone who benefitted dramatically from a breakthrough in medicine—the discovery that the bacterium Helicobacter pylori caused recurrent gastrointestinal hemorrhage, rather than stress or repressed anger —Dr. Boushey perhaps understands better than most the hope the medical research provides to those who suffer from debilitating and life-threatening illnesses.
"People with diseases like severe asthma, alpha-1 anti-trypsin deficiency, pulmonary fibrosis, pulmonary hypertension, or leiomyomatosis all dream that some scientist somewhere will make a discovery that changes everything overnight," Dr. Boushey says.
That's why he believes when donors contribute to the ATS Research Program, there is something "sacred" about the bond between the donor and the ATS. Dr. Boushey believes that the ATS and its grant recipients have honored that bond by "using the money right." Which for the 2020 Breathing for Life Award recipient means exactly that: supporting research that has the potential to revolutionize care so that patients can breathe easier and live longer.
---
For more information on benefit corporate packages, please contact Lara Endreszl at lendreszl@thoracic.org.
For more information on benefit academic medical institution, nonprofit organization, or individual group packages, please contact Ally Felix at afelix@thoracic.org.