About the Breathing for Life Award
---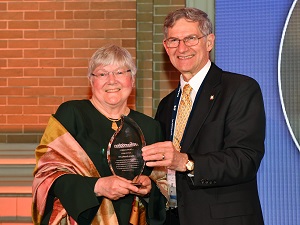 Sharon Rounds, MD, receiving the
2019 Breathing for Life Award from
Dean Schraufnagel, MD, ATSF
Criteria:
The 2020 Breathing for Life Awardee will be Homer Boushey, Jr., MD. The Breathing for Life Award is the highest honor given by the ATS for philanthropy, scientific achievement, and commitment to mentorship. The award is presented to individuals or institutions who:
Demonstrate consistent philanthropic support for the research agenda of the ATS. 
Encourage/inspire philanthropy from others, such as other ATS members, non-ATS members, and the public-at-large.
Advocate for the philanthropic support of young investigators in pulmonary, critical care, and sleep medicine.
Raise awareness of the burden of respiratory disease on patients and their families to the public-at large.
Eligibility:
Individuals/couples and institutions who meet the specified criteria.
Individuals who are not currently on the boards of the ATS.
An individual who has been nominated one year will not automatically be carried over for nomination the following year.
A nominator may nominate one person(s) or one institution per year.
Selection Process:
Nominations may be made by ATS members and individuals otherwise active within the ATS, and the ATS chapters.
Each nomination must be documented in a one-page letter using the above criteria and must be signed by the person making the nomination.
The deadline for the submission of nominations to the ATS Funds for the Future Committee is June 30.
The ATS Funds for the Future Committee members will review nominations against award criteria beginning in early July.
Finalists selected for this award will be informed of the honor by August at the latest. Awardees will be invited to attend the ATS Research Program Benefit during the ATS International Conference to accept the award.
---
2019 - Sharon Rounds, MD
2018 - James F. Donohue, MD
2017 - David Center, MD
2016 - Sally Wenzel, MD
2015 - Marvin Schwarz, MD
2014 - William Busse, MD
2013 - Gerard Turino, MD
2012 - Talmadge King, Jr., MD
2011 - Louis Libby, MD
2010 - Senator Mike Crapo (R-Idaho)
2009 - ATS Public Advisory Round Table (PAR)